Announcing: My End of Year Course for 2023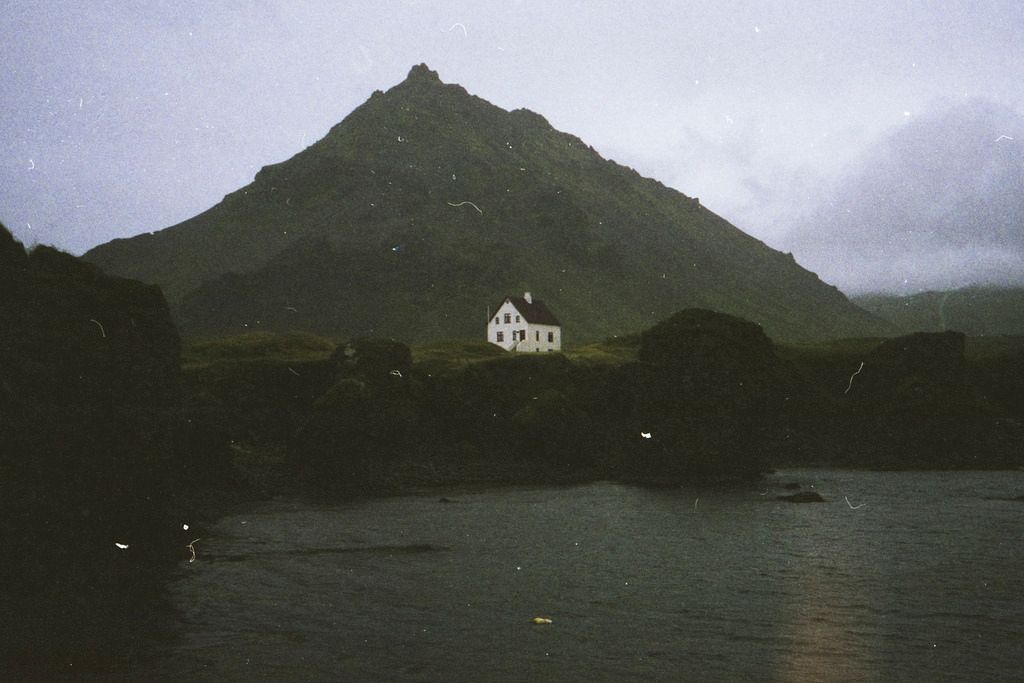 Hi there! Long time no talk.
I wanted to send you a brief message to let you know that I'm announcing my new Critical Path course for 2023.
I've run a class at the end of the year for the past few years now, and they've all been great (you can check some testimonials below).
This year, we're exploring self-hypnosis - and the incredible things it can help us do.
Hypnosis completely changed my life, and I have spent the entire year reading, learning, training, and practicing. I am completely, 100% sold on the transformative potential of self-hypnosis; I wish, more than anything, that I had known about it sooner.
Now I want to pass that information on to you.
The goal of this class is to give you the tools to explore your own mind, expand your potential, and solve problems more effectively. Not only that, it's  a toolset for you to expand on and make your own moving forward.
Classes will be experiential - we'll be "doing" hypnosis in the class, sharing our experiences, and learning from one another.
This class will be pay-what-you-want (which includes nothing).
Dates: December 6th, 7th, 12th, and 13th. Those are Wednesday/Thursday.
Times TBD, but assume after normal working hours. Recordings will be made available, but attending live is much better.
If you're interested, you can reserve a spot in the class by filling out this form:
TESTIMONIALS FROM PREVIOUS CLASSES:
Dan's Mastery program has been an incredibly insightful set of videos which have allowed me to get to know myself better through my writing. The Art of Mastery has helped me understand, among other things, how to engage in networked note taking, convex tinkering, and understanding the difference between T-Learning and I-Learning. In less capable hands, these are terms that would have quickly overwhelmed me, but Dan easily breaks down what these different terms mean and makes them easy to understand. The Mastery course provides various tools to help you achieve your goals, providing sufficient ways to take notes and organize them in a meaningful way.
Nathan Eshelman
The Difference Engine, Better Questions, every album you've put out, has truly improved my quality of life and inspired me to get serious about my own drives, and your compassion and willingness to help others progress is making the world a better place.
Conner
This course is like "how to be creative" and "how to get maximum out of your work" all in one package. Also, it tells you how to do it in user frielndy, step by step guide. This concept will change a lot of peoples lives! -
Michał Kowarski
The Art of Mastery opened up a whole new world to me. Dan is extremely articulate in how he presents the course, how to use it, and what you can get out of it. I am always open to learning more and this is a great place to start. Highly recommended -
Gail Collins
TESTIMONIALS FROM HYPNOSIS CLIENTS:
"I cannot recommend Dan enough! He helped me to foster a deeper transformation within myself and even after one session, I suddenly felt untethered to what I see now as the "old" version of me. It's worth mentioning that prior to working with Dan, I heavily immersed myself in affirmations, meditation, self-help books, etc. While they all were beneficial in one way or the other, my session with Dan took it to the next level and undoubtedly altered the way I see myself in the world. If you're serious about transforming unhelpful habits and thought patterns, then schedule a session with Dan. It has been by far one of the most important things I've ever done for my overall sense well-being."
Sam Marandola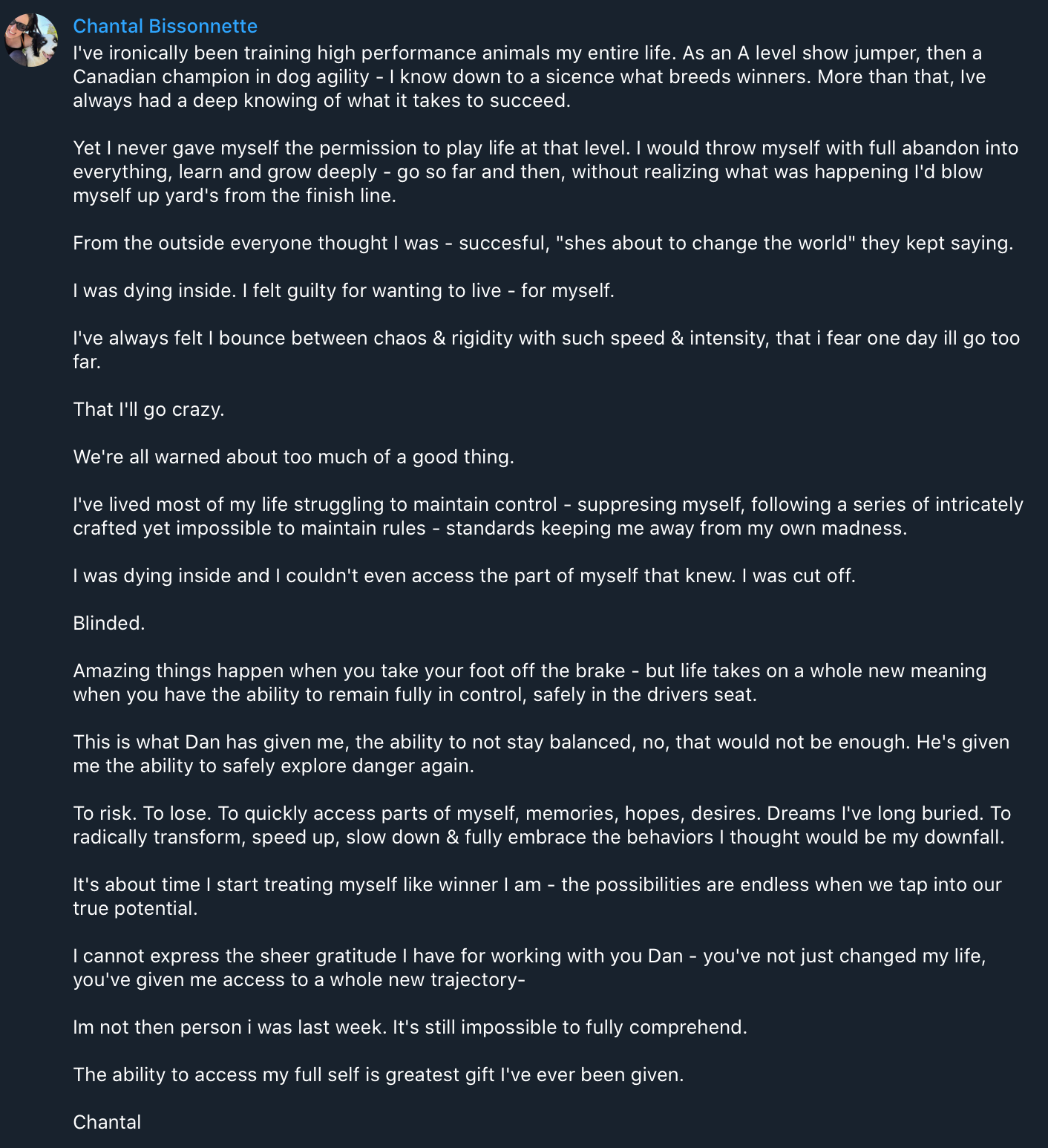 "Dan is the man! Since working with Dan, things have been different in a fantastic way. Unlocks come more frequently and things flow in a way they have not done in the past. There has been more clarity and ease unilaterally across business, family, and self. This trifecta could not have come at a better time for me. If you want to make a quantum leap in all areas, working with Dan and the process he has developed is the key you have been looking for."
Jeff Merck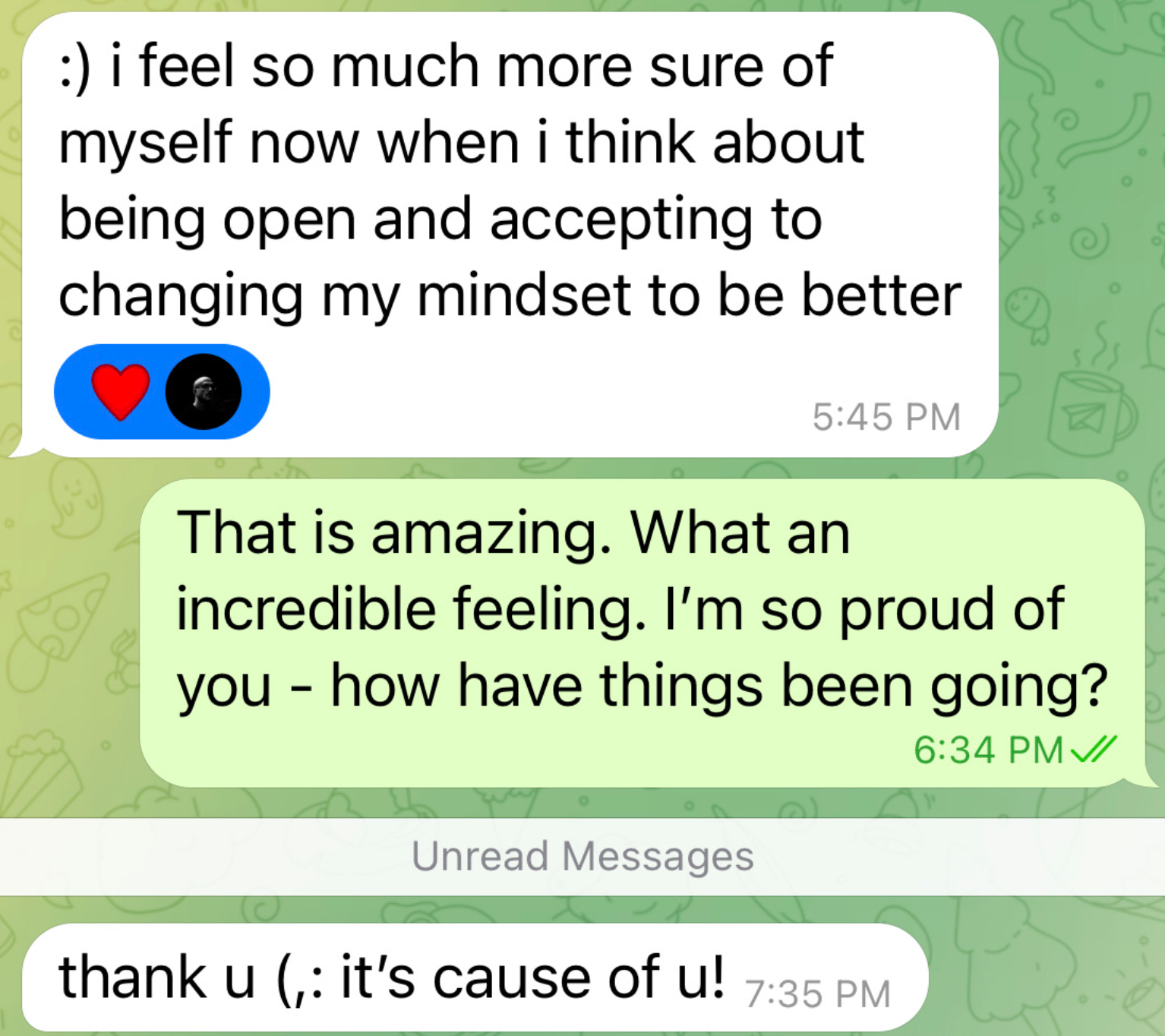 Better Questions Newsletter
Join the newsletter to receive the latest updates in your inbox.